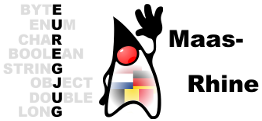 Earlier this year Stefan Pfeiffer aka @dl1ely approached me, if I would be interested in a Java User Group (JUG) in Aachen, set up as a cross-border, english-language JUG. My spontaneous reaction was something like "sure, great idea".
Becoming a group member of the iJUG was pretty straight forward, something i wanted to do as an individual for a long time. Thanks to bitstars, we had a room near Aachen centrum, drinks where provided by my company ENERKO Informatik and thanks to O'Reilly in person of Corina we also had some books to raffle.
Our first guest was Bert Ertman, Java Champion and Rockstar and currently fellow at Luminis and he talked about "Building Modular Software Development in the Cloud Age using OSGi":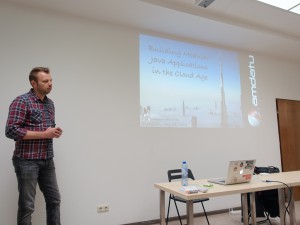 The title of his talked was only missing Docker and Microservices to win the buzzword bingo of the day, but actually, the talk was great and really informative, even for people like me who never did anything with OSGi in 13 years.
Slides of the talk are at Slideshare, but then, you're missing the great demo using components from Amdatu inside Apache Felix.
The evening was a great opportunity getting in contact not only with a great Speaker and software developer but also getting to know more Java aficionados in the Euregio. Becoming a great developer is more than only knowing that stuff you need to know for your everyday work and yesterdays evening was a good start to broader that knowledge and i'm really happy that we could announce Geertjan Wielenga from Oracle as our next speaker at EuregJUG Maas-Rhine.
Thanks to all people involved so far 🙂